GPSMash is a command-line utility for Windows for processing GPS tracklog data. Capabilities of GPSMash include:
data recovery from from broken GPX or NMEA log files
handling and organizing large amounts of GPS data
filtering and cleaning-up data
exporting track data to various formats
transforming GPS track records according to predefined rules
analyzing and producing reports from GPS data
inclusion in scripts for automated data processing
Here are a couple of examples of what can be done using GPSMash. The first one is a 3D visualization of over 1 million GPS trackpoints centered around the San Francisco Bay Area:
The GPS data has been organized, cleaned-up, and converted to X3D format using GPSMash. The visualization of the X3D data was done in Blender.
The second example is a speed histogram of the same data, showing the amount of time spent moving at different speeds. Each peak in the table corresponds to a different mode of transportation (walking, biking, driving in the city and on the highway):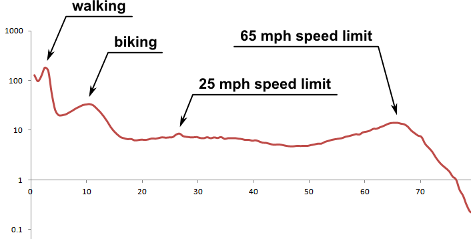 The GPS data has been analyzed and converted to CSV format in GPSMash. The graph was generated from the CSV data using Excel.